DevOps – Development & Operations Services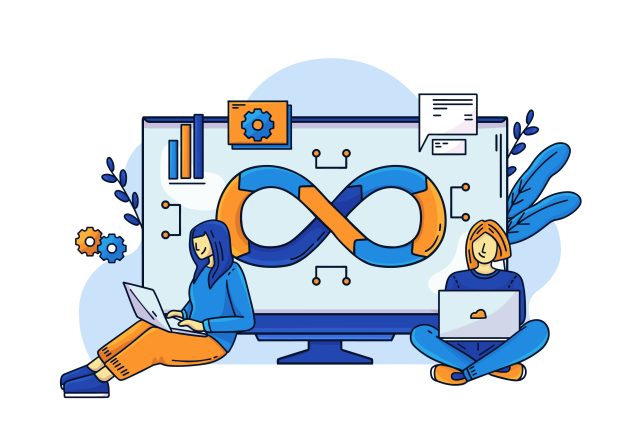 At FayankaTech, we offer comprehensive DevOps services that seamlessly bridge the gap between software development and IT operations. Our expertise in this domain encompasses continuous integration, continuous delivery, automated testing, infrastructure as code, and more. By integrating these cutting-edge practices, we ensure faster development cycles, enhanced collaboration, and increased deployment frequency. Our dedicated DevOps team streamlines workflows, facilitates seamless communication, and eliminates bottlenecks, resulting in shorter time-to-market, reduced operational costs, and improved software quality.
By availing our top-notch DevOps services, your business stands to gain numerous advantages. Through faster and more frequent releases, you can stay ahead of the competition and quickly respond to changing market demands. The increased collaboration between development and operations teams fosters a culture of innovation, enabling the swift deployment of new features and improvements. Additionally, the implementation of automation and infrastructure as code ensures consistency and reliability, reducing the risk of human errors and downtime. With our expertise in DevOps, your business can achieve higher productivity, improved customer satisfaction, and the ability to rapidly adapt to dynamic market conditions, positioning you for long-term success in the ever-evolving digital landscape.
Planing & Strategy
Comprehensive Assessment: We begin by conducting a thorough assessment of your existing software development and IT operations processes to identify pain points and areas for improvement.
Tailored DevOps Roadmap: Based on the assessment, we create a customized DevOps roadmap that aligns with your business goals, ensuring a step-by-step plan for seamless integration and optimization.
Agile Implementation: Our agile approach ensures iterative and incremental implementation of DevOps practices, allowing for continuous feedback and adjustments throughout the process.
Collaboration and Training: We foster a culture of collaboration between development and operations teams, providing training and workshops to upskill your workforce in DevOps methodologies and tools.
Continuous Monitoring and Support: Our support doesn't end with implementation. We provide continuous monitoring and support to ensure the ongoing success of your DevOps initiatives, adapting to evolving needs and challenges.
Benefits to FayankaTech DevOps Services